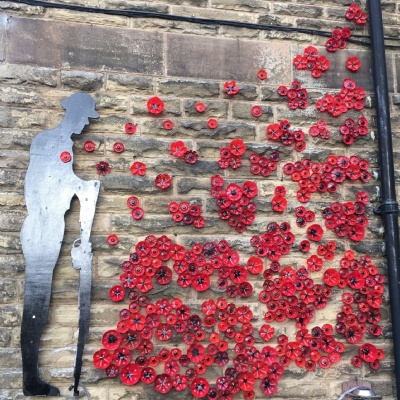 Blacko Primary School Remembers - Staff and Children create memorial to commemorate 100 years since World War I ended.
The School community wanted to do something significant to mark the 100 year anniversary since the end of World War I, but also wanted to commemorate all the soldiers who have fought and served for our country.
The Children and Staff discussed ideas for what they could do and chose to design poppies out of bottle bottoms to create an eye-catching display whilst finding another purpose to plastic waste in the environment. The children worked hard to collect the resources needed, cut out and then paint to create a poppy effect whilst thinking and reflecting on why they were creating them. The whole idea of the display came from the Tower of London's creations from previous years and as such wanted to create the vision of the poppy fields when the soldiers laid down their weapons.
On the afternoon of Friday 9th November the School will be holding a minute silence with children, parents and community of the school. At this, they plan to release doves as a sign of peace courtesy of Heavens a Dove.
Children from the school have said:
Charlie- 'All of the classes have painted bottle bottoms to create poppies to put on the wall for the ceremony.'
Harry & Isla - 'On Friday the 9th of November 2018 we will hold a minutes silence in the front yard of Blacko Primary School.'
Toby - 'We will collect some doves from a pupil's mum at Blacko Primary and we will set them free during the ceremony as a mark of peace.'
The children are working in classes this week to learn about World War I and the significance of what our soldiers have done for us and our country. They are also having class and house assemblies to explore this further with their peers.