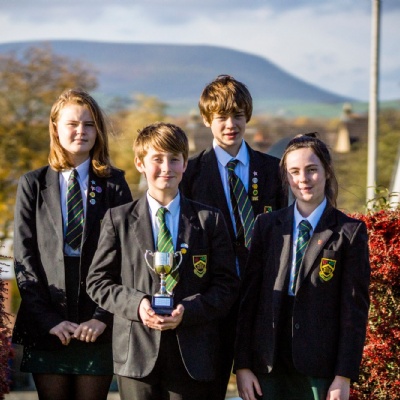 Winners of the North West Regional Heats of the Kids' Lit Quiz 2018
On the evening of the 8th November an inspirational team of four Year 8 students took part in the North West Regional Heats of the Kids' Lit Quiz which was held at Pendle Vale College. The students competed against 18 other teams to win the Regional heat by one point!
The four children secured their place at the Kids' Lit Quiz National heats taking place in London in December. If the students were to win the National heats they would be travelling to Singapore to compete in the World Finals in July of next year.
Gareth Jackson. Head of School at Park High School said "I am so very proud of the pupils and their success" he also added "The pupils are a real credit to the school and it's been great to see them succeed after the hard work and time they have put towards the competition".
The Kids' Lit Quiz is an annual literature quiz for students aged 10 - 13 years. Quizzes are held in Australia, Canada, Hong Kong, Indonesia, New Zealand, Nigeria, Singapore, South Africa, Thailand, United Kingdom and USA.
The National Final consists of five categories with 12-15 questions in each category. Examples of categories set previously include poetry, authors, titles, settings, characters, and nursery rhymes.
Follow the pupils' progress by looking at the Kids' Lit Quiz website: www.kidslitquiz.com. We wish them the best of luck in The National Finals in December.