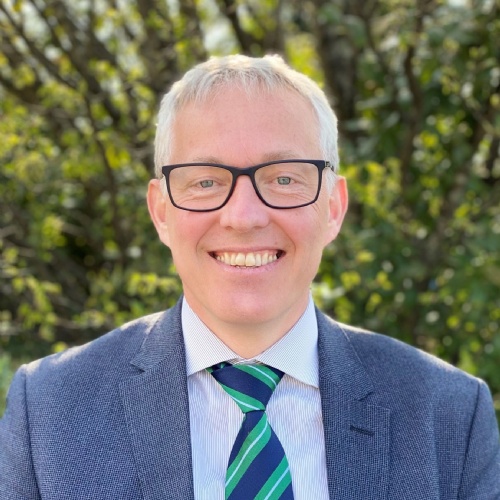 John Tarbox joins the Pennine Trust as Chief Executive. John has worked in Lancashire schools for over 30 years, including 7 years in Colne at Primet Academy. He has been Headteacher and then Executive Headteacher at Bowland High, near Clitheroe since 2012. The School was judged to be outstanding in all areas following the most recent Ofsted inspection in 2016. Subsequently, John helped form a multi-academy trust, Achievement through Collaboration, serving as Deputy CEO. Since 2018, he has worked at the request of the Local Authority, to support schools in challenging circumstances; Most recently, supporting Rhyddings Business and Enterprise School at a time when that school was forced to relocate on a temporary basis from its site in Oswaldtwistle.
John intends to build on the strong legacy of the Trust's first CEO, Dr Parkin, with the Trust's ethos of innovate, include and inspire central to its future development. He is committed to an evidence-informed approach to developing all aspects of school provision as well as high quality professional development of staff, so that pupils experience a knowledge-rich curriculum and enriching experiences which stimulate pupils and raise their aspirations.
Announcing the appointment, Chair of the Trust Marie Burnham said:
'As a Board of Trustees we are delighted to be able to welcome John into The Pennine Trust family. I am confident that with his knowledge and skills, he will take our Trust from strength to strength. We are very keen to ensure that our Trust forms an integral part of our community in Pendle, as we believe by working with the rest of the education and social sectors, we can improve our children's experiences, equipping them to be confident adults of the future.
The Trust has also recently appointed Lisa Finnegan, on a secondment basis, as Director for Educational Development. Lisa is the principal of Ash Grove Academy, an outstanding primary school in Cheshire and the founding school of the Aspire Educational Trust. She is also a designated Specialist Leader of Education for Mathematics and a designated Local Leader of Education. Her remit is to lead on the delivery of outstanding curriculum in all of our schools to ensure the highest standards in pupil outcomes.
Lisa's impact has already been felt across our Primary Schools as she has been working with the Trust for the past twelve months. School assessments suggest the numbers of pupils achieving the expected standard in Reading, Writing and Maths have seen a marked improvement on 2019 figures. The planned developments will mean all pupils within the Pennine Trust from the age of four to sixteen, will benefit from a carefully sequenced, progressive curriculum designed to ensure that all reach their full academic potential.
Both appointments strengthen the Trust's commitment to ensuring that its shared ethos and collective sense of purpose will lead to exemplary collaboration and sustained improvements. To keep up to date with the latest news, follow the Trust on Twitter @ThePENNiNETrust.