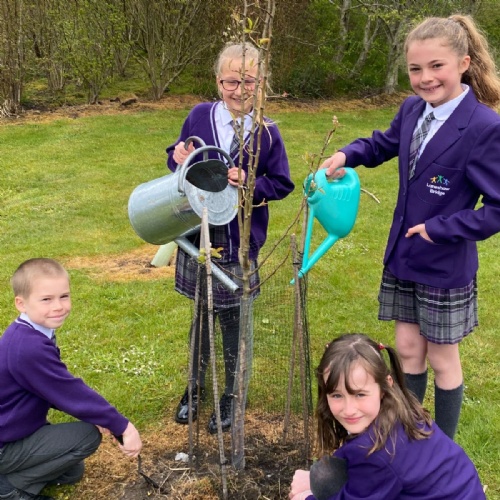 Laneshaw Bridge Primary School have become the very first Tree Champions in Pendle! Pupils have been involved in learning about the extraordinary role of trees and how they are under threat, in the UK and around the world.
After learning about the role that trees play in our everyday lives Eleanor, Emily, Joshua and Lexi set out on a mission to help make a difference and play their part in ensuring that the school was doing its part to tackle climate change. The pupils, from Year 5, applied for resources from The Tree Council's Branching Out Fund, a grant to enable school communities to get involved in tree and hedge planting and their future care. The school was informed of their successful application in late Spring and staff and pupils couldn't be happier to be benefitting from an array of resources, including Tree packs, tech kits including a Google virtual reality tool to support students discover the power of trees, public speaking workshops and access to teacher training and learning resources.
Jo Sharples, Headteacher at Laneshaw Bridge said in a statement:
'We are incredibly proud of the pupil's achievements. They generated all the ideas for the successful project bid focussing on raising awareness of the benefits of trees both for the environment and wellbeing. Practically, they have planted an orchard of plum, pear and apples trees donated by the local community as well as introducing indigenous trees to the school grounds. As well as applying for the Young Tree Champions Project, they have written a Tree Newsletter, organised a Wacky Tree Competition and created a tree identification kit for key stage 1 and key stage 2. They are truly the Greta Thunbergs of the future.'
The Tree Champions have generated enthusiasm for the environment and Laneshaw Bridge has now established The Bird Brigade who have weekly responsibilities for feeding the local birdlife. The pupils have also written bird identification kits that are used by children in school as they bird watch at break and lunch times. The school has received lots of parental support which has resulted in the school becoming the proud recipient of ten new bird boxes together with a bird box camera.