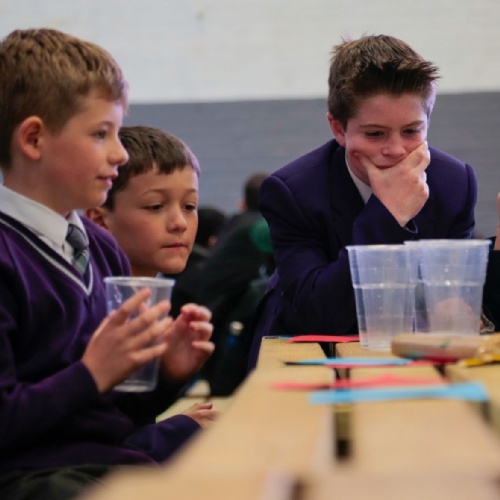 Pupils from across Burnley and Pendle came together to become the ultimate Maths Champion! Years 2, 4 and 5 from over 30 primary schools had taken part in challenge days throughout the year in the hope that their school would make it to the finals day held at Turf Moor.
Over 100 pupils attended the event last Friday, 19th May 2023 which was hosted in partnership with Burnley Football Club in the Community. A carousel of activities took place throughout the day where pupils had the opportunity to see behind the scenes at Turf Moor, take part in practical maths challenges and compete in STEM related activities with the support of Lancaster University School of Maths.
When the challenges were launched by The Pennine Trust over two years ago, the aim was to bring together local schools for a collaborative event following a period where such gatherings could not take place due to COVID. The events have been a huge success and have grown in strength since the Trust developed strong partnerships with BFCitC and LUSOM. We are excited at the prospect of planning additional challenges in the new academic year to support pupils to develop a real passion and love of Maths. Additional points were awarded throughout the day to each team who demonstrated the trust's three values of ambition, respect and collaboration the most.
The overall winners of each year group's competition were the teams from Year 2 at St Michael and All Angels, Year 4 from Briercliffe Primary School and Year 5 from Worsthorne Primary School.
Lianne Bradford, Education Manager at BFCitC said:
"On Friday, we were delighted to be joined by 112 pupils from Years 2, 4 and 5 from 17 difference schools across Burnley and Pendle to celebrate all things Maths, in our Maths Challenge Finals Day. In collaboration with The Pennine Trust, the pupils worked through a series of heats to earn their place in the final. During the finals day, children spent the whole day at Turf Moor undertaking exciting mathematical activities alongside a STEM Challenge, Stadium Tour and a special guest appearance from Bertie Bee. A huge thank you to all involved, everyone at BFCitC had a great day and all the children involved were fantastic."
John Tarbox, CEO of The Pennine Trust said:
"The Maths Challenges are a great way for pupils across Burnley and Pendle to come together to help generate a passion for Mathematics. As a trust we really value our working partnership with BFCitC and LUSOM to provide pupils an arena where they can demonstrate their talents. Congratulations to all of the pupils who took part in Finals Day."